Molecular cloning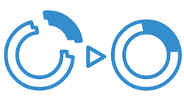 Molecular cloning is the first laboratory step in producing a recombinant protein. The aim of the process is to obtain an expression vector (also referred to as a plasmid) that carries the gene of interest (GOI).
The general workflow is described in the diagram below: 

Frequently Asked Questions – Molecular Cloning
How do I select my cloning strategy?
There is no right or wrong cloning strategy. The decision depends on what resources you have available in your lab and their individual merits e.g. how fast is the strategy, how efficient is it etc. Useful articles on several cloning strategies can be found in related articles.
Do I have to codon optimise my gene?
Codon optimisation involves modifying the codons within a gene sequence to match the codon frequency of the intended expression host. It can theoretically enable higher protein production rates, however it is not critical for achieving successful protein expression.
Site-directed mutagenesis (SDM)


SDM is a molecular technique used to introduce specific mutations (deletions/insertions/point mutation) to the GOI or vector sequence. SDM is commonly used for mutations involving:
Creating mutants for functional studies
Restriction endonuclease recognition sites
Start or stop codons
Fusion tags and signal peptides