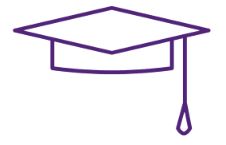 PEF is committed to fostering the next generation workforce in biomanufacturing. We engage with undergraduate and postgraduate students to accelerate your research with a focus on recombinant protein production. With extensive knowledge and expertise in protein expression, purification and characterisation, PEF is uniquely situated to support you through every step of your journey.
Workshops: We convene annual workshops to upskill students and researchers with practical know-how for every step in protein production.

Training and consultation: The team of highly skilled PEF specialists are available to share their invaluable technical skills with you.

Industry placements: We partner with the University faculties and schools to offer students a unique placement opportunity to enhance your employability.

Custom proteins: Tap into PEF's extensive experience to accelerate the production of your novel or challenging recombinant proteins.

Lab reagents: UQ students can gain access to high quality and reliable reagents via our UQ Resource Centre. Students engaging annually with PEF

Employability enhancement program for UQ students Customised training programs to upskill students in protein production
Testimonial
"The molecular cloning workshop is quite useful for me. It gives me an idea of the equipment available for my protein works. With your help, I have successfully expressed and purified my protein which can be used for structural studies."
Weixi Gu – UQ Student